Margaret River is a wonderland of wine, surf,  forests, caves and good times, but the question is…….where to stay?
Well, shut down the laptop, because I have grown up in Margs, run a wine tour and am gonna tell you about a few secret spots that wotif, trip advisor, and stayz won't.
People come to Margaret River with different budgets so I have broken it down to three categories: Loaded, Semi Loaded and Budget, and have chosen the best in each.
Roozen Residence.  I go a fair way back with Ronnie Roozen – who owns the Roozen residence.  (pictured above). When working at the Prevelly park caravan park as a teenager, he used to get us to run wine up a hill to his place – there was usually some sort of party going on.
The Roozen Residence is in Prevelly Park about a kilometre from the beach. I have never stayed there but it would be a damn good place to impress a girl…or boy.   There are 180 degree ocean views from every room and a brilliant deck to have an afternoon red wine and watch the sunset.  The place was designed by architect Dale Jones – Evans and has often been listed as one of the best beach houses in Australia in various magazines/newspaper articles.
There are three bedrooms and the price is $600 – $900 per night depending on the season.  ronroozen.com.au
Horizon House.
This house is located a few kilometres from the beach and the website on this house really does not do it justice.  Walking inside is the ultimate "wow" factor.   Amazing views of the river and the ocean from almost every room, and an incredible deck, this would be a great place to stay with a group of friends.  There is a tennis court out the back, and a pool so everything you need really.  I discovered this place after dropping a group home from a wine tour.  I'm pretty sure it is 4-5 bedrooms and the price is around $900 a night depending on the season.
www.horizonsmargaretriver.com.au
La Foret Enchantee  Winner of the prestigious Jaguar award for excellence in Travel, set within 10 acres of private land on Caves road, is the luxurious La Foret Enchantee.  With fountains, fairytale turrets and wide verandahs that stretch out into open sky decks, the setting is spectacular.    There are only two chalets on the entire property (il Palazzo and la cabin) so your privacy is guaranteed and they are appointed and furnished exquisitely.  If you took the other half for a romantic getaway here they will tell their friends, lavish praise, and generally stay in love with you for years.   $600 per night includes breakfast.  laforetenchantee.com.au
Cape Lodge.   (Pictured Above)   Much like Leeuwin Estate for wine, Cape Lodge is an icon in Margaret River.  They do things a little differently at Cape Lodge.  When head chef Michael Elfwing cooks breakfast, you can rest assured it's not going to be just bacon and eggs.  Creativity will be embraced, nurtured, and encouraged.    The grounds are spectacular.  They limit the guests for a more intimate experience.  Nigella Lawson recently stayed at Cape Lodge for the gourmet escape.  (was flown in by helicopter), so it can attract its fair share of celebrities.   Maybe not a place for kids – particularly younger than 8.
Injidup Spa Retreat. (Pictured Below)
Maybe one of the more spectacular locations to stay in the Margaret River area.  Each villa has a plunge pool and a incredible view of the coast.  Located less than a kilometre from Injidup beach, and perched on a cliff overlooking the beach, the location is secluded, but will require a car to get to Dunsborough, to the north, and Margaret River, to the south.  The specialise in all things spa and pampering at Injidup Spa Retreat, so is a perfect place for couples.  (Guys can head down for a surf while girls can indulge in an incredible massage/facial/pedicure).
Medium.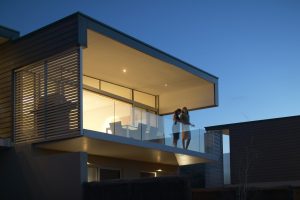 Smith's Beach Resort.  (Pictured Above)
Smith's Beach Resort.   A hop skip and a jump from the absolutely pristine beach called Smith's is the Smith's Beach Resort.  Gabrielle, (ex Tourism WA employee and now director of sales and marketing at Smith's) has done a fantastic job here.  The staff are knowledgable and friendly, the location is to amazing, and, most importantly, the units here are fantastic.  (I know because I've dropped off people who stay.)  This accommodation is closer to Yallingup than Margaret River but still not far from Caves Road and some world famous wineries.   Make sure you ask for one closer to the beach side.
Riveresque is a balinese style gem.  (Balcony among the forest is pictured above)  Attention to detail is suburb, outdoor shower is bliss, and you will not have a better sleep in Margaret River surrounded by trees and natural forrest.  If you want to get away from the hectic city life, then this is the place for you, and it still only a few kilometres from the town of Margaret River.  Rob and Di, who run it, are absolute champions.  Rob was one of the first winners of the Bells surfing competition and will always be there for yarn on surf, or life, or philosophy, when you need him.   Growing up as a young surfer, he was a bit of an inspiration to me.  You will have to book early for Riveresque, as it books out months in advance.  Price approx $350 per night depending on season.  www.riveresque.com
Llewellin's Guest House.
There is a reason Llewellin's Guest house has been rated the number 1 bed and breakfast pace in Margaret River and that is because James and Jo are wonderful people, and fantastic hosts.  Their place is a roughly halfway between the beach and town off Caves Road, so is a pretty quiet location, but still not too far away from some great Margaret River wineries.  Sitting around the breakfast table in the morning as James cooks up a storm is just one of those things you've got to experience once in your life.
price $250 – $350 depending on the season. www.llewellinsguesthouse.com.au
Hilltop Studios.
Hilltop studios is a few kilometres from the town of Margaret River on Carter's Road, and offer pretty modern studios in an amazing setting.  The cool thing about these studios are, you can return from a day of wine tasting, and sit in a hot tub sipping wine with an incredible view. (pictured below) Run by long time locals Claudia and Paul, every person that I've picked up from here has lavished praise on it. Price around 300/$350 per night. www.hilltopstudios.com.au
Central Avenue Apartments.  Just modern, clean, stylish apartments that are a very short walk to town.  The great thing about these apartments is there location – you can easily stumble back from a night on the town and crash, yet will not be interrupted from noise on the main street.  I stayed in one of these apartments about a month ago, on a really comfortable bed, and had a great night sleep.  They also have great balconies to entertain guests. (pictured above)  I think most of the apartments are two bedroom, so might suit two couples more, or a family.   Price $250 – $350 depending on season. www.centralavenue.com.au
Margaret's Forest.  Like Central Avenue apartments – great apartments in a really good location.  The place does back onto a forest, so feels tranquil, but is also just a short walk from town.  The other thing is they are apartments and not a hotel room so you feel as if you have a bit more room.  I have stayed in the spa apartment with a group of friends for a wedding and really enjoyed it.
$200 – $300 depending on season.  margaretsforest.com.au
The Villa Margaret River.
Located literally a 2 minute walk from some pretty cool bars (swing tap house) and the famous Margaret River Bakery, is the Villa.  Light, bright and with 3 bedrooms and 2 bathrooms this modern Villa is fully appointed with everything you need for a great stay.  Just show up, park in double garage, and enjoy yourself.
Price $200 – 300   https://www.margaretriver.com/members/the-villa-margaret-river/
Budget.
Yallingup Beach Holiday Park.  This holiday park is a quick stroll away from the beautiful Smiths beach and has been voted one of the best located caravan parks in Australia.  You are a good 30 minute drive from Margaret River here, but still not too far from some really good wineries down caves road.  Great for a young family. $30 – $100 depending on accommodation type and season.
Wharncliffe Mill.  This is set up so well for camping.  It's one of those places set in a forrest but with a whole lot of play area for kids to hang out, make friends and have a great time.  Still only 5 minutes from the town of Margaret River on Carters Road, Wharncliffe Mill is a great option. $30 – $100 depending on season and type of accommodation.  www.wharncliffemill.com.au
Hamelin Bay Holiday Park.  (pictured below)  Not sure if I want to let the word out on this one.  A beautiful and quiet holiday park only metres from pristine waters, beautiful sunsets and the chance of the kids feeding stingrays.  Turn off the mobile, shut down the laptop, and go camping "old school" with a few beers and marshmallows around a camp fire.  This place is a 30 minute drive south of Margaret River so is fairly out of the way, but if you want to shut yourself off to the world for a few days…..I can't think of anywhere better. $30 – $100 depending on season and type of accommodation.
Prevelly Park Caravan Park.  I have so many memories about the Prevelly Park Caravan Park.  I worked there in my younger days and the truth is, it will always hold so many special memories.   The only caravan park I have ever seen with a cellar door in the shop, and some really high quality wines to sample.   It is located probably a 5 minute walk from the beach.
$30 – $100 depending on season and type of accommodation.