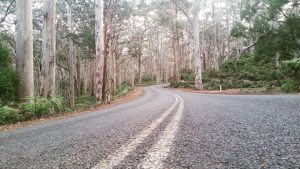 Caves Road.  The most iconic road in the universe.   I know Kerouac and his buddies had a joyful time in the 50's on route 66, eating apple pie, drinking whisky from flasks and picking up dishevelled hitchhikers at their leisure.  I know the blood can fairly pump when you drive south along the Californian coast past Monterery to Big Sur.  I'm sure drinking a curb side coffee at a cafe on the Champs-Elysées would be memorable.
But for me, the best damn road in the world is Caves Road.  It is the road of Margaret River.
Caves Road stretches between two capes – Naturalist to the north and Leeuwin to the south.  It runs parallel to the coast but not along it, which, I reckon, makes it better.  By being a few kilometres off the coast, the Jarrah, Karri's and Marri's grow beside it,  with wineries on either side.  The wildflowers bloom from the shrubbery in spring – Marri's tower like lumbering giants – their foliage throwing afternoon shade across the road.
Margaret River was a farming industry before the first vines were planted in 1967, and, if you go at the right speed, and you have the right mind set, all this is encompassed perfectly on the road.  Cows grazing in open paddocks on one side, and on the other are wineries with names like Vasse Felix, Cullen, Evans and Tate, and Moss  Brothers.   Voyager and Leeuwin are not far off the road.   Not counting the wineries, there is also McHenry Hohnen, that has quality meat, Gabriel, that has quality chocolate, Olio Bello, that has quality olive oil, and the Venison Farm, that has quality….you know what.  There is even an old yellow Tiger Moth aeroplane in a hanger at Edwards winery.  What more could you want?
This is the kind of road that needs the right car.  A cruiser – think mid 60's valiant or even a cadillac if you want to be outlandish.  The road does not require a speed more than 80km's an hour…..90 tops.  Do not speed.  Do not pass.  If you are in a rush then you are on the wrong road.  Ostensibly, you are on the wrong mind.
To the council – please do not widen it.  To the police – please do not police it.  To the people – please love and respect it.
Some winemakers reckon they can tell you exactly where (down to the kilometre) that wine has been made on Caves road. I don't know about that, but it does give you a sense of changing soil, slope, and geography as you drive along it – the "terroir" if you want to be fancy.  You don't need to be a winemaker to notice it.
As the road winds south, everything changes.  Brown turns to green.  Soil, shrubbery, and open paddocks are replaced by forest –  swaying Jarrah's and Karri's.
I defy anyone to drive through the Boranup forest and not be startled.   Just stop.  Get out of the car, walk, breathe, listen.  You will hear nothing but silence.  I have often wondered why, for me, Caves road evokes such a powerful sense of place.  I don't think it's from a youth spent driving an old kingswood along it, looking for dirt tracks that will take me surfing.  I don't think it's from its sheer beauty.  More than any else, it's the feeling of being home.
https://flyingcorkscrew.com.au/fc/wp-content/uploads/2016/11/FC-logo-wine-tour.png
0
0
Sullivan McLeod
https://flyingcorkscrew.com.au/fc/wp-content/uploads/2016/11/FC-logo-wine-tour.png
Sullivan McLeod
2016-11-04 08:37:15
2016-11-04 09:10:19
The Power of the Road.